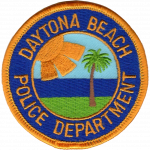 Police Officer Thomas Coulter
Daytona Beach Police Department, Florida
End of Watch Monday, May 21, 2018
Age 25
Tour 1 week

Police Officer Thomas Coulter suffered a fatal heart attack while conducting physical training in front of the Daytona Beach Police Department headquarters, on Valor Boulevard, on May 18th, 2018.

He was participating in a team job with other newly-hired police officers when he began to feel ill and collapsed. He was transported to a local hospital where his condition worsened. He passed away on May 21st, 2018.

Officer Coulter had served with the Daytona Beach Police Department for one week. He is survived by his wife of six months.
Rest in Peace Bro…We Got The Watch
Nemo me impune lacessit
Day is done, Gone the sun, From the lake, From the hills, From the sky. All is well, Safely rest, God is nigh.