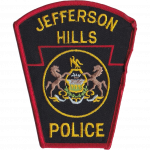 Police Officer Dale Thomas Provins, Jr.
Jefferson Hills Borough Police Department, Pennsylvania
End of Watch Saturday, June 13, 2020
Age 50
Tour 15 years
Badge 23
Cause Automobile crash
Incident Date Wednesday, June 3, 2020

Police Officer Dale Provins succumbed to injuries sustained in a vehicle crash 10 days earlier in the 200 block of Old Clairton Road.

An oncoming vehicle crossed the center line and struck Officer Provins' patrol car head-on. Officer Provins was flown to a hospital in Pittsburgh where he succumbed to his injuries on June 13th, 2020.

Officer Provins was a U.S. Marine Corps and Pennsylvania Army National Guard veteran of Operation Desert Storm and Operation Desert Shield. He had served with the Jefferson Hills Borough Police Department for 15 years and was a third-generation police officer. He is survived by his daughter, fiancée, parents, and siblings.
Rest in Peace Bro…We Got The Watch
Nemo me impune lacessit
Day is done, Gone the sun, From the lake, From the hills, From the sky. All is well, Safely rest, God is nigh.