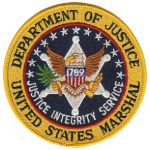 Deputy U.S. Marshal Chase S. White
United States Department of Justice - United States Marshals Service, U.S. Government
End of Watch Thursday, November 29, 2018
Age 41
Tour 3 years
Badge 31134

Deputy U.S. Marshal Chase White was shot and killed at 5:30 pm while attempting to serve a warrant at a home on 15th Avenue, near Jacinto Street, in Tucson, Arizona.

He and other officers were attempting to arrest the man, who had been charged with stalking a law enforcement officer. The man opened fire, killing Deputy Marshal White before barricading himself in his home. He surrendered approximately one hour later.

Deputy Marshal White was a member of the U.S. Air Force Reserve and had served with the United States Marshals Service for three years. He is survived by his wife and four children.
Rest in Peace Bro…We Got The Watch
Nemo me impune lacessit
Day is done, Gone the sun, From the lake, From the hills, From the sky. All is well, Safely rest, God is nigh.