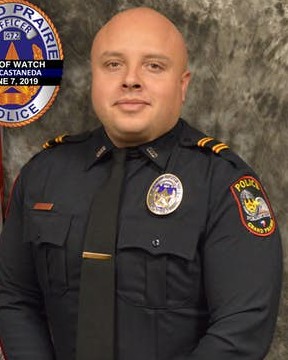 Police Officer Albert Ramirez Castaneda, Jr.
Grand Prairie Police Department, Texas
End of Watch Friday, June 7, 2019
Age 38
Tour 11 years
Badge 472

Police Officer AJ Castaneda was struck and killed by a vehicle while running radar on the President George Bush Turnpike, near Dickey Road, at 10:30 am.

A 17-year-old driver lost control of his vehicle and struck Officer Castaneda, throwing him off the elevated roadway. Officer Castaneda was transported to a local hospital where he was pronounced dead.

Officer Castaneda was a U.S. Coast Guard veteran. He had served with the Grand Prairie Police Department for five years and had previously served with the Tarrant County Sheriff's Office for six years. He is survived by two children.
Rest in Peace Bro…We Got The Watch
Nemo me impune lacessit
Day is done, Gone the sun, From the lake, From the hills, From the sky. All is well, Safely rest, God is nigh.