I spent the most of this weekend in Gonzales, TX. For those of you not into Texas history, it's the location of the Battle of Gonzalez, where the Mexican army demanded the return of a cannon. The response has become legendary, "Come and Take It!"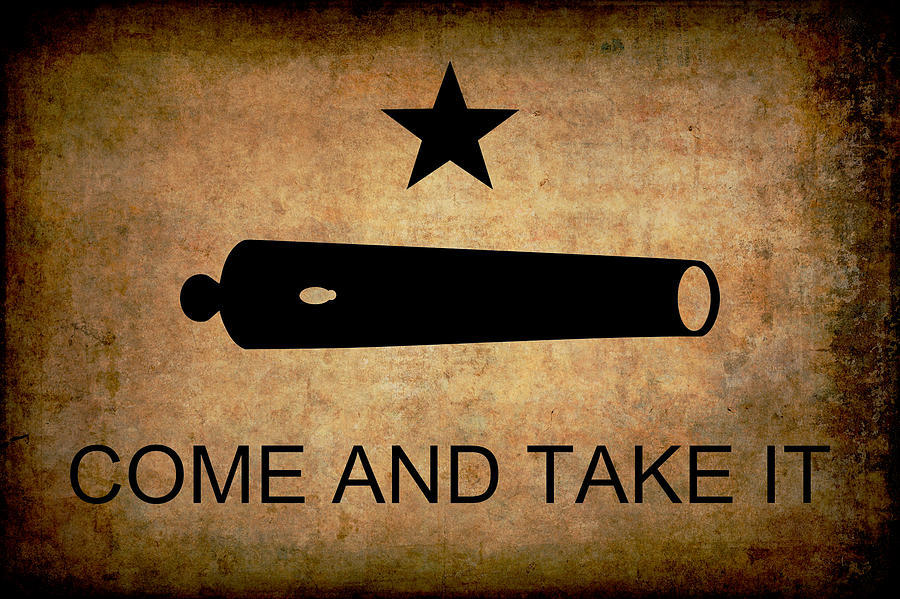 Battle for Texas independence began over a cannon

...The "Come and Take It" cannon of the Battle of Gonzales (The cannon is the real thing, the carriage a reproduction) on display at the Gonzales Memorial Museum, Gonzales, Texas, United States. Courtesy of Larry D. Moore Photography. Image available on Wikipedia and included in accordance with Title 17 U.S.C. Section 107.

During a period of high tensions between settlers and Mexican natives, the Mexicans had left a small cannon in the town of Gonzales for the purpose of warding off Indian attacks. Sensing hostilities, the Mexicans decided to take the cannon out of the hands of the settlers and sent a force of 100 horsemen under Lt. Francisco de Castañeda to retrieve it. When Castañeda reached Gonzales, he found the city in open defiance, daring him to "come and take it." After a small skirmish, Castañeda retreated: he had no orders concerning how to deal with open rebellion. The Battle of Gonzales, as it came to be known, was the spark that ignited the Texas War of Independence...
These men later on went to the Alamo and perished with Colonel Travis.
Time flies. Just 18 months ago Beth and I were with Mike Liesmann, and his wife, Christine, at the Alamo, as Mike assumed command of the
71st Expeditionary Military Intelligence Brigade (EMIB)
. In a string of commands during a very distinguished career in the Texas Army National Guard, he knows this is likely the last one. And no question, he took a great unit, and improved it.
Mike and I regularly have lunch, and it was rare that he didn't get two or three phone calls from his staff. And as annoying and time consuming this is, it shows something. He's the man in the lead. It's the only reason for any officer to be commissioned, to command, be it a company/troop/battery, battalion/squadron, brigade/regiment, or higher.
COL Michael J Lesmann, outgoing commander of the 71st EMIB,
makes his departing remarks.
Where the Guard will send him now, God knows. But wherever he goes, he will be more than up to the challenge. Mike, I'm proud to call you friend, fellow Army officer, and brother in the
Thin Blue Line
. Congratulations, and I wish you and Christine all the best life can offer.