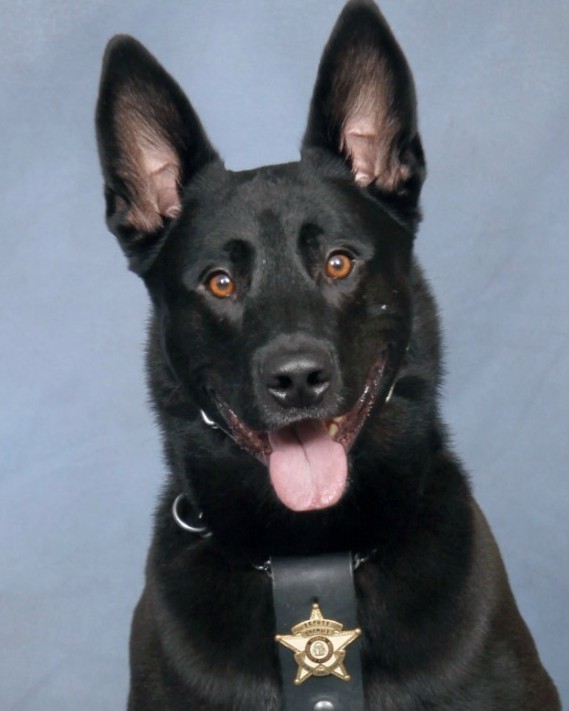 K9 Verro
Paulding County Sheriff's Office, Georgia
End of Watch Friday, July 19, 2019
Breed Belgian Malinois
Gender Male
Age 8

K9 Verro was shot and killed after biting a sheriff's deputy in the area of Brooks Road and Trotters Way in Dallas, Georgia.

Deputies had responded to the area to investigate a domestic violence call. They encountered a male subject in a vehicle who fled on foot when they attempted to contact him. K9 Verro's handler responded to the scene but did not deploy K9 Verro because the department's criteria for a canine deployment had not yet been met.

As K9 Verro's handler was assisting other deputies in the foot pursuit, K9 Verro was able to squeeze through an opening in his kennel and entered the front of the patrol vehicle. He was then able to squeeze out of a partially opened window and exited the vehicle. He then mistook a deputy involved in the foot pursuit for a fleeing subject and attempted an apprehension, biting the deputy in the leg. The deputy, not recognizing Verro and unable to break free from the bite, fatally shot him.
Rest in Peace Verro…till our next roll call at the Rainbow Bridge!
In Memory of all Police Dogs
They handled themselves with beauty & grace
And who could ever forget that beautiful face
Whether at work; or at home; whatever the test
They always worked hard; and did their best
They were real champions; at work or at play
But their lives were cut short; suddenly one day
While working on the job with their partner one day
They put themselves out on a limb; out into harms way
They gave the ultimate sacrifice; any dog can give
They gave up their life; so someone could live
The best of their breed; as his partner and anyone would say
Many hearts are now broken; that he had to prove it this way
Now as the trees are blowing in the gentle breeze
The sun is shining; thru the leaves on the trees
The meadows are green; and the grass grows tall
Off in the distance they can see a waterfall
As they look over the falls; down through the creek
The water flows gently; as a rabbit sneaks a peek
Far up above; in the deep blue sky
They see the birds soar high; as they fly by
They see animals playing; at the bridge by a waterfall
Chasing each other; and just having a ball
They play all day; from morning to night
There's no more rain; just warm sunlight
Off in the distance; they hear trumpets blow
Then all the animals look up; and notice a bright glow
The harps would play and the angels would sing
As they know they've come home; they've earned their wings
We remember that they died; in the line of duty
And are now with the Lord; sharing in heaven's beauty
Off to the meadows now; where they can play and roam free
With an occasional rest stop; under a tall oak tree
No more bad guys to chase; or bullets to take
Just a run through the meadow; down to the lake
A quick splash in the water; then back to the shore
Then it's off to the forest; to go play some more
These special dogs are back home; up in heaven above
They're cradled in God's arm's; and covered with His love
We'll light a candle for all of them; in the dark of night
In loving memory of all; these very special knights
By John Quealy