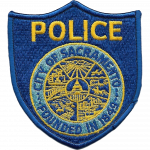 Police Officer Tara Christina O'Sullivan
Sacramento Police Department, California
End of Watch Wednesday, June 19, 2019
Age 26
Tour 6 months
Badge 349

Police Officer Tara O'Sullivan was shot and killed at the scene of a domestic disturbance in the 200 block of Redwood Avenue at 6:10 pm.

She was standing in the yard while assisting a woman to retrieve belongings from a home when a male subject inside opened fire with a rifle, striking Officer O'Sullivan. The subject continued to fire at other officers, preventing them from reaching Officer O'Sullivan or rendering aid to her. Approximately 30 minutes later an armored vehicle arrived, and they were able to rescue her from the yard. She was transported to a local hospital where she succumbed to her wounds.

The subject remained barricaded inside the home for several more hours while negotiators communicated with him. He surrendered at 2:00 am the following morning.

Officer O'Sullivan had served with the Sacramento Police Department for six months and previously served as a Community Service Officer.
Rest in Peace Sis…We Got The Watch
Nemo me impune lacessit
Day is done, Gone the sun, From the lake, From the hills, From the sky. All is well, Safely rest, God is nigh.