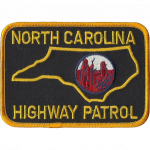 Trooper Samuel Newton Bullard
North Carolina Highway Patrol, North Carolina
End of Watch Monday, May 21, 2018
Age 24
Tour 3 years
Badge E532

Trooper Samuel Bullard was killed in a vehicle crash while involved in a pursuit on I-77, near mile marker 82 in Yadkin County, at approximately 11:00 pm.

He and another trooper were conducting a drivers license checkpoint when a black BMW sped through and refused to stop. The troopers pursued the vehicle onto I-77. When the lead trooper no longer saw Trooper Bullard behind him, and could not raise him on the radio, he broke off the pursuit and turned around. Trooper Bullard's vehicle was located at mile marker 82 at a bridge abutment fully engulfed in flames.

The vehicle that was being pursued was later found abandoned. The driver was identified, arrested, and charged with murder, felony eluding, and driving on a revoked license.

Trooper Bullard had served with the North Carolina Highway Patrol for three years and was assigned to Surry County.

He is survived by his fiancee, parents, brother, sister, grandparents, and extended family.
Rest in Peace Bro…We Got The Watch
Nemo me impune lacessit
Day is done, Gone the sun, From the lake, From the hills, From the sky. All is well, Safely rest, God is nigh.