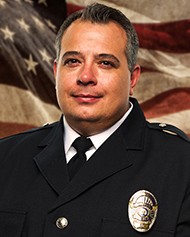 Police Officer Mathew J. Mazany
Mentor Police Department, Ohio
End of Watch Sunday, June 24, 2018
Age 41
Tour 14 years
Cause Vehicular assault

Police Officer Mathew Mazany was struck and killed by a hit-and-run driver while assisting another officer during a traffic stop on Route 2, near Route 306, at approximately 1:00 am.

The vehicle that had been stopped contained a subject wanted in another jurisdiction. As the officers began to approach the car to take the person into custody another vehicle entered the area and struck Officer Mazany. The vehicle fled the scene after striking Officer Mazany but was located several hours later and the driver was taken into custody.

Officer Mazany had served with the Mentor Police Department for 14 years. He is survived by his son, father, and brother.
Rest in Peace Bro…We Got The Watch
Nemo me impune lacessit
Day is done, Gone the sun, From the lake, From the hills, From the sky. All is well, Safely rest, God is nigh.