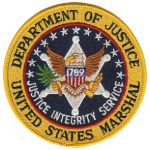 Deputy U.S. Marshal Christopher David Hill
United States Department of Justice - United States Marshals Service, U.S. Government
End of Watch Thursday, January 18, 2018
Age 45
Tour 11 years

Deputy U.S. Marshal Christopher Hill was shot and killed in Harrisburg, Pennsylvania while attempting to serve an arrest warrant with other members of the Middle Pennsylvania Fugitive Task Force.

The task force had located a woman, who was wanted for making terroristic threats, at a home in the 1800 block of Mulberry Street at approximately 6:30 a.m. As they attempted to take the woman into custody a man inside the home opened fire on them, striking Deputy Marshal Hill and two local task force officers. One of the wounded officers was able to return fire and killed the subject.

Deputy Marshal Hill was transported to a local hospital where he succumbed to his wounds.

Deputy Marshal Hill was a U.S. Army veteran and had served with the United States Marshals Service for 11 years. He is survived by his wife and two children.
Rest in Peace Bro…We Got The Watch
Nemo me impune lacessit
Day is done, Gone the sun, From the lake, From the hills, From the sky. All is well, Safely rest, God is nigh.