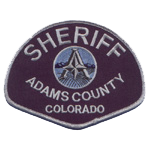 Deputy Sheriff Heath McDonald Gumm
Adams County Sheriff's Office, Colorado
End of Watch Wednesday, January 24, 2018
Age 31
Tour 5 years
Badge 381

Deputy Sheriff Heath Gumm was shot and killed during a foot pursuit near 88th Avenue and Dawson Street, in Thornton.

Deputies had responded to an assault in progress call at approximately 7:30 pm and became involved in the foot pursuit with one of the subjects. The man ran behind a house in the 8700 block of Dawson Street. As Deputy Gumm ran behind the house he was shot by the subject and struck in the chest.

The subject was apprehended and charged with murder of a peace officer and two additional counts of murder. A search continued for two additional subjects.

Deputy Gumm served with the Adams County Sheriff's Office for four years. He was posthumously promoted to the rank of detective.

He is survived by his wife, parents, sister, and grandmother.
Rest in Peace Bro…We Got The Watch
Nemo me impune lacessit
Day is done, Gone the sun, From the lake, From the hills, From the sky. All is well, Safely rest, God is nigh.