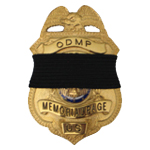 Reserve Officer Christopher Michael Lawton
Zachary Police Department, Louisiana
End of Watch Monday, March 12, 2018
Age 41
Tour 10 years
Badge Z-72

Reserve Officer Chris Lawton was killed after being intentionally struck by a vehicle as he attempted to serve a narcotics-related felony warrant.

He and another officer had spotted the wanted subject inside a U-Haul truck parked at the Walmart on Plank Road, in Baker, Louisiana. After observing the subject for several minutes the officers parked their patrol car behind the truck and began to approach it on foot. The subject saw them walking alongside the truck and started to drive away, pinning Officer Lawton between the truck and a shopping cart corral.

Officer Lawton's partner was able to broadcast a description of the vehicle, which was located approximately 20 minutes later. The driver was arrested and charged with first-degree murder, hit and run, and being a fugitive from justice. A second occupant of the vehicle was charged with obstruction of justice.

Officer Lawton served as a part-time, unpaid reserve officer with Zachary Police Department for 10 years and also served as a full-time firefighter with the Zachary Fire Department.
Rest in Peace Bro…We Got The Watch
Nemo me impune lacessit
Day is done, Gone the sun, From the lake, From the hills, From the sky. All is well, Safely rest, God is nigh.