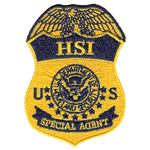 Special Agent Timothy Allan Ensley
United States Department of Homeland Security - Immigration and Customs Enforcement - Homeland Security Investigations, U.S. Government
End of Watch Sunday, June 24, 2018
Age Not available
Tour 9 years
Cause Duty related illness
Location Overseas
Incident Date Tuesday, May 15, 2018

Special Agent Tim Ensley died after contracting Dengue fever while on a temporary duty assignment to Indonesia in May 2018.

He was medically evacuated to Singapore where his condition continued to worsen. He passed away as a result of complications on June 24th, 2018.

Special Agent Ensley had served with HSI for nine years and was assigned to the Seattle Field Office's Child Exploitation Investigations. He is survived by his wife, four children, and mother.
Rest in Peace Bro…We Got The Watch
Nemo me impune lacessit
Day is done, Gone the sun, From the lake, From the hills, From the sky. All is well, Safely rest, God is nigh.