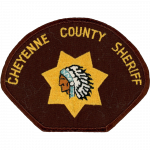 Deputy Jailer Randy ZoeRay Haddix
Cheyenne County Sheriff's Office, Nebraska
End of Watch Monday, July 9, 2018
Age 56
Tour 15 years
Cause Heart attack
Incident Date Friday, July 6, 2018

Deputy Jailer Randy Haddix passed away as the result of a heart attack he suffered while participating in a custody and control certification class at the Scottsbluff County Jail in Scottsbluff, Nebraska, on July 6th, 2018.

He was transported to a local hospital before being flown to the Medical Center of the Rockies, in Loveland, Colorado, where he passed away on July 9th, 2018.

Deputy Haddix was a National Guard veteran. He had served with the Cheyenne County Sheriff's Office for three months and had previously served with the Broken Bow Police Department for 15 years. He is survived by his wife, sister, and two brothers.
Rest in Peace Bro…We Got The Watch
Nemo me impune lacessit
Day is done, Gone the sun, From the lake, From the hills, From the sky. All is well, Safely rest, God is nigh.