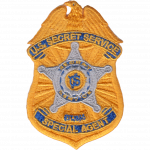 Special Agent Nole Edward Remagen
United States Department of Homeland Security - United States Secret Service, U.S. Government
End of Watch Tuesday, July 17, 2018
Age 42
Tour 19 years
Badge Not available
Military Veteran
Cause Duty related illness
Incident Date Sunday, July 15, 2018

Special Agent Nole Remagen suffered a fatal stroke on July 15th, 2018, while on an executive protection detail for the National Security Advisor during a presidential visit to the Turnberry golf resort in Ayrshire, Scotland.

Other agents immediately began CPR after he collapsed. He was attended to by a White House doctor before being transported to Queen Elizabeth University Hospital in Glasgow. He passed away on July 17th, 2018.

Agent Remagen was a U.S. Marine Corps veteran. He had served with the United States Secret Service for 19 years and was assigned to the Presidential Protection Division. He is survived by his wife and two children.
Rest in Peace Bro…We Got The Watch
Nemo me impune lacessit
Day is done, Gone the sun, From the lake, From the hills, From the sky. All is well, Safely rest, God is nigh.