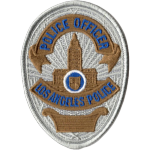 Police Officer Juan Jose Diaz
Los Angeles Police Department, California
End of Watch Saturday, July 27, 2019
Age 24
Tour 2 years

Police Officer Juan Diaz was shot and killed shortly after midnight in the area of Avenue 26 and Humboldt Street after taking law enforcement action when he observed several men vandalizing a wall.

He was eating with friends when he observed the man tagging a wall with gang graffiti. He approached the man and told him to stop. A short time later the man returned with others, confronted Officer Diaz and his friends, and brandished a handgun. The man then opened fire on the group as they tried to leave the area, killing Officer Diaz and wounding his girlfriend's brother.

Three subjects were taken into custody approximately one week later and charged with murder and gang participation.

Officer Diaz had served with the Los Angeles Police Department for two years and was assigned to the Professional Standards Bureau.
Rest in Peace Bro…We Got The Watch
Nemo me impune lacessit
Day is done, Gone the sun, From the lake, From the hills, From the sky. All is well, Safely rest, God is nigh.