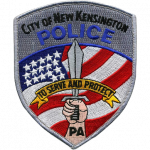 Police Officer Brian David Shaw
New Kensington Police Department, Pennsylvania
End of Watch Friday, November 17, 2017
Age 25
Tour 3 years
Badge 29

Police Officer Brian Shaw was shot and killed while making a traffic stop of a vehicle in the 1200 block of Leishman Avenue at approximately 8:00 pm.

The driver fled on foot during the stop, then opened fire on Officer Shaw as he pursued him. Although he was wearing his vest, Officer Shaw was fatally wounded in the chest during the foot pursuit. The subject fled the scene but was arrested on November 21st, 2017.

Officer Shaw had served with the New Kensington Police Department for only five months. He had previously served as a part-time officer for three years with the Cheswick Police Department, Frazer Police Department, and Springdale Township Police Department.

He is survived by his parents, brother and grandmother.
Rest in Peace Bro…We Got The Watch
Nemo me impune lacessit
Day is done, Gone the sun, From the lake, From the hills, From the sky. All is well, Safely rest, God is nigh.