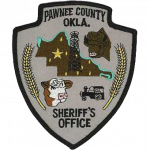 Undersheriff Monty Thomas Johnson
Pawnee County Sheriff's Office, Oklahoma
End of Watch Thursday, February 21, 2019
Age 63
Badge 306

Undersheriff Monty Johnson was killed in a vehicle crash on Highway 18 north of the Cimarron Turnpike at 7:00 am.

Another vehicle crossed the center line and struck Undersheriff Johnson's patrol car head-on.

Undersheriff Johnson is survived by his wife and children.
Rest in Peace Bro…We Got The Watch
Nemo me impune lacessit
Day is done, Gone the sun, From the lake, From the hills, From the sky. All is well, Safely rest, God is nigh.