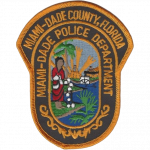 Police Officer Jermaine Brown
Miami-Dade Police Department, Florida
End of Watch Wednesday, December 12, 2018
Age 46
Tour 15 years

Police Officer Jermaine Brown was killed in an ATV crash while conducting an enforcement detail as the result of community complaints of illegal activity along a canal path.

He was responding to assist other officers on the detail when the ATV he was driving struck a tree south of the intersection of South Dixie Highway and SW 211th Street.

Officer Brown had served with the Miami-Dade Police Department for 15 years. He is survived by his wife and three children. His wife also serves with the department.
Rest in Peace Bro…We Got The Watch
Nemo me impune lacessit
Day is done, Gone the sun, From the lake, From the hills, From the sky. All is well, Safely rest, God is nigh.