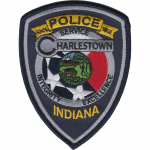 Sergeant Benton Hurley Bertram
Charlestown Police Department, Indiana
End of Watch Wednesday, December 12, 2018
Age 33
Tour 9 years
Badge 550

Sergeant Ben Bertram was killed in a vehicle crash while involved in a vehicle pursuit on State Road 3 at 10:30 pm.

He had attempted to stop a stolen vehicle but the driver refused to stop. As the pursuit neared State Road 56, in Scott County, Sergeant Bertram's vehicle left the roadway and struck a tree. Other officers in the pursuit immediately stopped and rendered aid but Sergeant Bertram succumbed to his injuries at the scene.

The driver continued to flee but was apprehended in Clark County. He was charged with resisting law enforcement resulting in death and auto theft.

Sergeant Bertram's canine partner survived the crash and was treated at a local veterinary hospital.

Sergeant Bertram had served with the Charlestown Police Department for nine years. He is survived by his parents.
Rest in Peace Bro…We Got The Watch
Nemo me impune lacessit
Day is done, Gone the sun, From the lake, From the hills, From the sky. All is well, Safely rest, God is nigh.