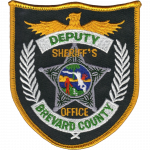 Deputy Sheriff Kevin James Stanton
Brevard County Sheriff's Office, Florida
End of Watch Saturday, February 17, 2018
Age 32
Tour 10 years, 5 months
Badge 0782

Deputy Sheriff Kevin Stanton was killed when his patrol car was struck by a tractor-trailer on I-95, just north of Route 50, at approximately 5:10 am.

The tractor-trailer suffered a tire blow-out, causing the driver to lose control and swerve into the left lane where Deputy Stanton was driving. Deputy Stanton's patrol car then struck the rear of the semi.

Deputy Stanton had served with the Brevard County Sheriff's Office for 10-1/2 years.
Rest in Peace Bro…We Got The Watch
Nemo me impune lacessit
Day is done, Gone the sun, From the lake, From the hills, From the sky. All is well, Safely rest, God is nigh.