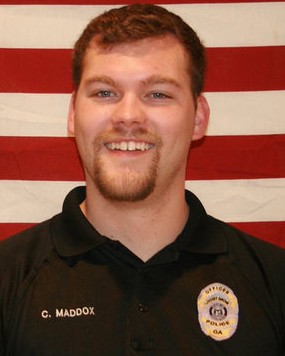 Police Officer Chase Lee Maddox
Locust Grove Police Department, Georgia
End of Watch Friday, February 9, 2018
Age 26
Tour 5 years

Police Officer Chase Maddox was shot and killed while assisting two deputies from the Henry County Sheriff's Office serve a warrant at a home on St. Francis Court.

The deputies had gone to the home to arrest the subject for failing to appear in court on a traffic violation. The man refused to cooperate and the deputies requested assistance from the Locust Grove Police Department.

Several minutes after Officer Maddox arrived at the scene the officers attempted to take the man into custody. The subject opened fire on the officers, killing Officer Maddox and wounding both deputies before being shot and killed.

Officer Maddox had served with the Locust Grove Police Department for five years. He is survived by his expectant wife and two sons. His second son was born four days after his death.
Rest in Peace Bro…We Got The Watch
Nemo me impune lacessit
Day is done, Gone the sun, From the lake, From the hills, From the sky. All is well, Safely rest, God is nigh.