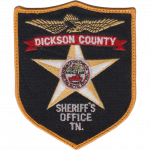 Sergeant Daniel Scott Baker
Dickson County Sheriff's Office, Tennessee
End of Watch Wednesday, May 30, 2018
Age 32
Tour 10 years
Badge 95

Sergeant Daniel Baker was shot and killed while responding to a call about a suspicious vehicle in the area of Sam Vineyard Road and Tidwell Switch Road.

Dispatchers lost contact with Sergeant Baker after he arrived at the scene and other officers were sent to make contact with him. His vehicle was tracked by GPS and located several miles away by an officer from another agency. His body was located inside of the vehicle.

The subject who shot him was found days later and was arrested with Sgt. Baker's handcuffs.

Sergeant Baker was a U.S. Marine Corps veteran and had served with the Dickson County Sheriff's Office for 10 years. He is survived by his wife, children, and family including his father and stepbrother, who serve as law enforcement officers with the Spring Hill Police Department.
Rest in Peace Bro…We Got The Watch
Nemo me impune lacessit
Day is done, Gone the sun, From the lake, From the hills, From the sky. All is well, Safely rest, God is nigh.