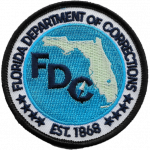 Correctional Officer Tawanna Marin
Florida Department of Corrections, Florida
End of Watch Monday, June 18, 2018
Age 48
Tour 9 years

Correctional Officer Tawanna Marin was struck and killed by a vehicle while supervising an inmate work crew near the intersection of Sample Road and Lyons Road in Coconut Creek.

She was standing behind a Florida DOT dump truck when another vehicle entered the area and struck her, causing her to become pinned between the car and dump truck. She was extricated from the wreckage and transported to Broward Health North where she succumbed to her injuries.

Officer Marin had served with the Florida Department of Corrections for nine years.
Rest in Peace Sis…We Got The Watch
Nemo me impune lacessit
Day is done, Gone the sun, From the lake, From the hills, From the sky. All is well, Safely rest, God is nigh.