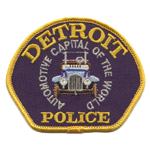 Police Officer Donald O. Kimbrough
Detroit Police Department, Michigan
End of Watch Thursday, December 7, 2017
Age 71
Tour 7 years
Badge 2257
Cause Gunfire
Incident Date Friday, August 25, 1972
Weapon Handgun
Offender At large

Police Officer Donald Kimbrough succumbed to complications of gunshot wounds sustained on August 25th, 1972, while responding to a robbery.

He and his partner, both in plain clothes, were in the area of a methadone clinic when they were informed that two men were shooting at people in the parking lot at the intersection of Belmont Street and Woodward Avenue. As the officers arrived on scene they confronted one of the armed subjects walking from an alley to a car that had just pulled into an adjacent parking lot.

The man complied, but a second subject sitting in the vehicle's driver's seat opened fire with a handgun, striking Officer Kimbrough in the chest. The first subject then picked up the shotgun and fired at Officer Kimbrough's partner. Both officers returned fire as the suspects fled in the car.

Officer Kimbrough was transported to Henry Ford Hospital where it was determined that the bullet had lodged against his spine, causing him paralysis from the waist down. Although confined to a wheelchair, he was able to return to limited duty until being medically retired in 1977. His health continued to deteriorate, and he died of complications of the original gunshot wound on December 7th, 2017.

The two suspects involved in the shooting were never identified and the case remains open.

Officer Kimbrough was a U.S. Air Force veteran and had served with the Detroit Police Department for a total of seven years before medically retiring. He is survived by his son.
Rest in Peace Bro…We Got The Watch
Nemo me impune lacessit
Day is done, Gone the sun, From the lake, From the hills, From the sky. All is well, Safely rest, God is nigh.