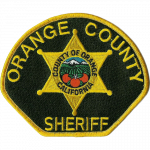 Deputy Sheriff Carlos Cammon
Orange County Sheriff's Department, California
End of Watch Friday, August 23, 2019
Age 35
Tour 6 years
Cause Duty related illness
Incident Date Thursday, July 18, 2013

Deputy Sheriff Carlos Cammon passed away on August 23rd, 2019, having never regained consciousness after collapsing during a SWAT training exercise on July 18th, 2013.

He was transported to a local hospital and treated for dehydration and cardiac issues after collapsing at the Sheriff's Training Facility in Tustin. He was transferred to a rehabilitation center but never regained consciousness before passing away in 2019.

Deputy Cammon had served with the Orange County Sheriff's Department for six years and was assigned to the Stanton Station.
Rest in Peace Bro…We Got The Watch
Nemo me impune lacessit
Day is done, Gone the sun, From the lake, From the hills, From the sky. All is well, Safely rest, God is nigh.