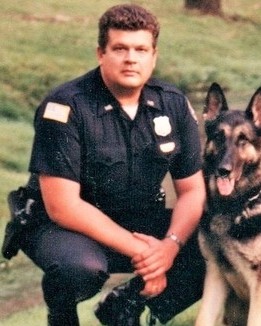 Police Officer Kenneth Reid Lester
Richmond Police Department, Indiana
End of Watch Monday, February 10, 2020
ge 62
Tour 16 years
Badge 149
Cause Automobile crash
Incident Date Friday, February 17, 1995

Police Officer Kenneth Lester succumbed to injuries sustained in an automobile crash on February 17th, 1995, while responding to an alarm call.

He was responding to the call with his lights activated but no siren. As he approached the intersection of South 8th Street and South H Street a tractor-trailer that was driving in the left lane moved to the right lane. As Officer Lester overtook the tractor-trailer, it suddenly attempted to make a left turn in front of him. His patrol car became stuck underneath the trailer, causing him to suffer debilitating head and internal injuries.

Officer Lester required around-the-clock care for the next 25 years. He passed away from complications of the original injuries on February 10th, 2020.

Officer Lester had served with the Richmond Police Department for 16 years at the time of his crash. He is survived by his wife, two children, and two sisters.
Rest in Peace Bro…We Got The Watch
Nemo me impune lacessit
Day is done, Gone the sun, From the lake, From the hills, From the sky. All is well, Safely rest, God is nigh.