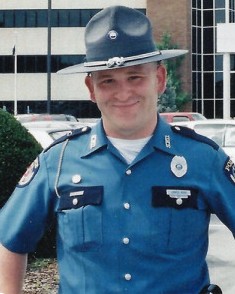 Detective James Traver Kirk
Stanton Police Department, Kentucky
End of Watch Tuesday, February 11, 2020
Age 40
Tour 18 years
Badge 191
Cause Heart attack
Incident Date Monday, February 10, 2020

Detective James Kirk suffered a fatal heart attack following a struggle with an armed subject.

He had responded to back up other officers dealing with the non-compliant subject. After running to the officers a struggle ensued before the man was taken into custody.

The following day Detective Kirk had gone to the Powell County Courthouse to obtain a search warrant on an unrelated case. As he was leaving the courthouse he suddenly collapsed outside of the building. He was transported to a local hospital where he was pronounced dead.

Detective Kirk had served in law enforcement in Powell County for 18 years. He is survived by his wife, four daughters, grandson, mother, and sister.
Rest in Peace Bro…We Got The Watch
Nemo me impune lacessit
Day is done, Gone the sun, From the lake, From the hills, From the sky. All is well, Safely rest, God is nigh.